THE ENDANGERED
They are endangered. They are human beings who can be discarded before they're born, if we so wish.
They're all over the world, but are decreasing in number.
For some reason, this endangered part of the world's population has been born with a 21st chromosome, has been diagnosed with Down syndrome, and is mentally disabled.
They live their lives among us in Sweden.
They've assembled the curtain rod you put up and fastened the price tag to the plastic bag of screws you bought.
They meet friends for coffee and go to the gym to live healthy lives. They long for love. They listen to music and like films where beautiful people live in fancy houses and get married and have children.
They go out with the garbage and get colds and argue and think, in their teens, that they are ugly and want to die.
We shouldn't feel sorry for them at all.
Those who I have met are remarkably happy, live in the moment, and are proud of themselves.
They don't think about themselves as problems or costs for society.
I can say that I feel happy and I forgive others and I forgive myself, says Victoria.
I feel that others think things about me, but I don't really know what they are, says Julia.
Having Down syndrome is okay, having epilepsy is worse, says Mats.
It is true that this endangered group needs support to live their lives. And who doesn't?
They cannot become what they want to be – and neither can I.
I write "endangered" because people with Down syndrome are a shrinking part of the population.
Because fear exists.
Because people have a strong desire for what we've been taught to perceive as healthy, beautiful and happy.
But what if we actually need this part of the population, for the good of our society?
In the exhibit Icons at Fotografiska museum in Stockholm, 21 people with Down syndrome model, portrayed as beautiful and powerful, as kings, rock idols, movie stars, ballerinas, martyrs, freedom fighters, artists… And why not, if we now truly think that diversity and human equality is valuable?
We also want to be models, says Lotta.
In my heart, I'm proud of myself, says Ingrid.
21 people with an extra 21st chromosome.
Here, they tell us about their lives.
TV: PIETER TEN HOOPEN COSTUME: HELENA ANDERSSON AND LINDA SANDBERG
TRANSLATION: KATIE DODD SYK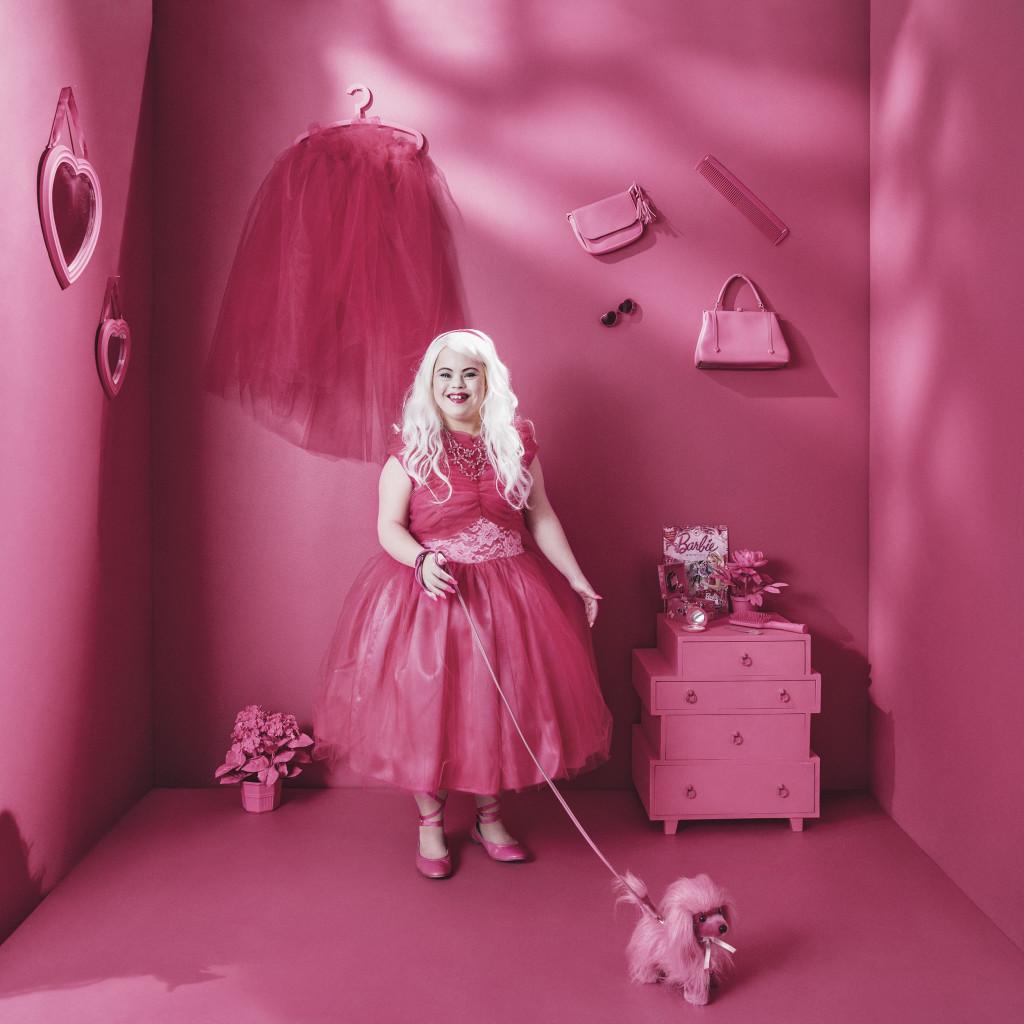 Barbie
Malin, 25, Mölndal
I had a fun job of connecting wires. My father also tried, but he couldn't, he didn't have the right touch. I paint and cut fabric and make paintings and sell them and make money. We are going to Denmark with the money! There, you can dance with cute guys. I'm good at dancing. It's fun to be home by myself too. I sit with my Ipad and write about Ariel and Michael Jackson.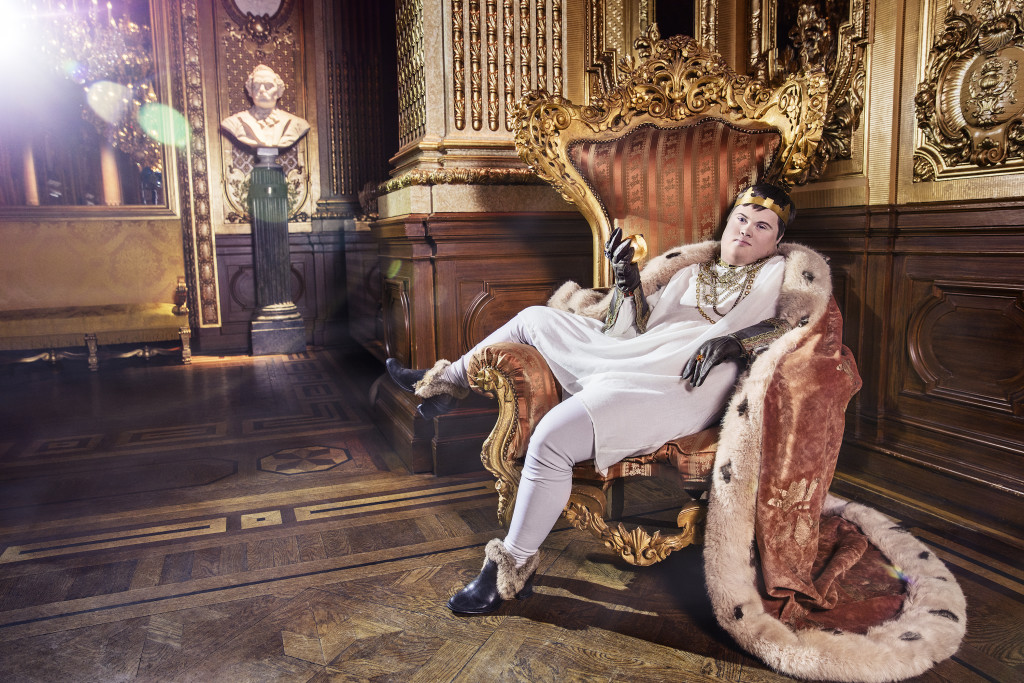 The King
Jonas, 24, Varberg
Jonas, you are king, say some. Because they like me. I'm a person who likes beautiful words. If someone beautiful comes by, I say: "Hey you, you're a real gem." My life is good. I feel safe. I walk into stores and talk a little, because they like me so much. I listen to music and sing as I walk. Then people say: "There he goes singing." And they laugh. And that is totally okay.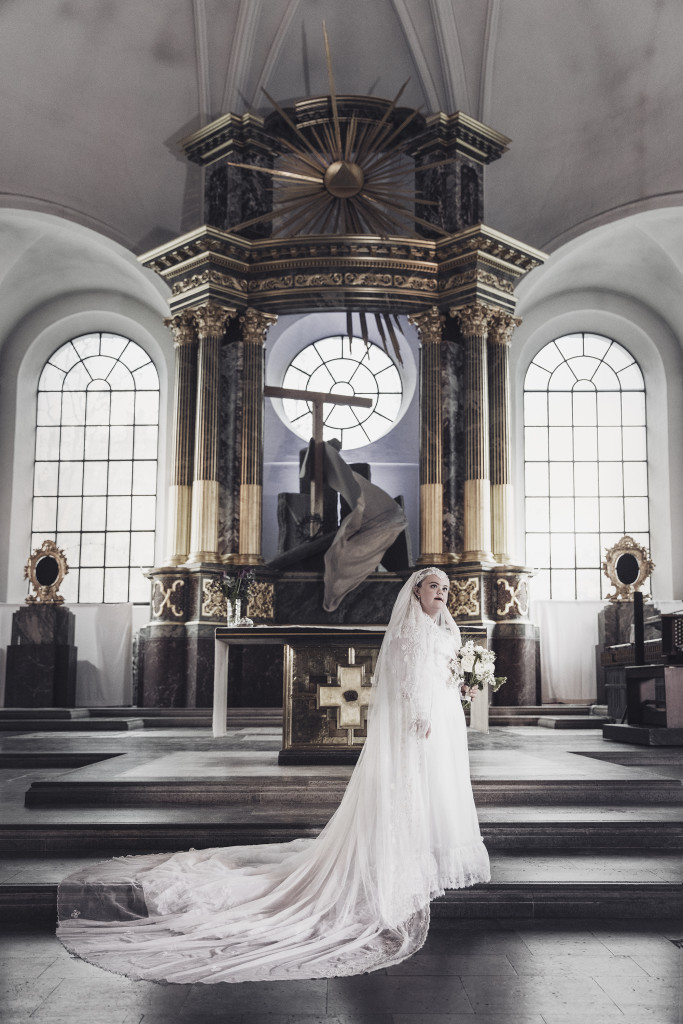 The Bride
Jenny, 26, Vårgårda
I'm happy when I go to work, but the older women there are not happy. Every day I work on my writing. I'm given paper and start copying. I write beautifully. I don't get a salary, but I can shop on the card. I go to the swimming pool and swim 15 lengths. I had a best friend where I was living, but she got sick. So I don't want to live there any more. I want to move to Croatia. I have to work on that.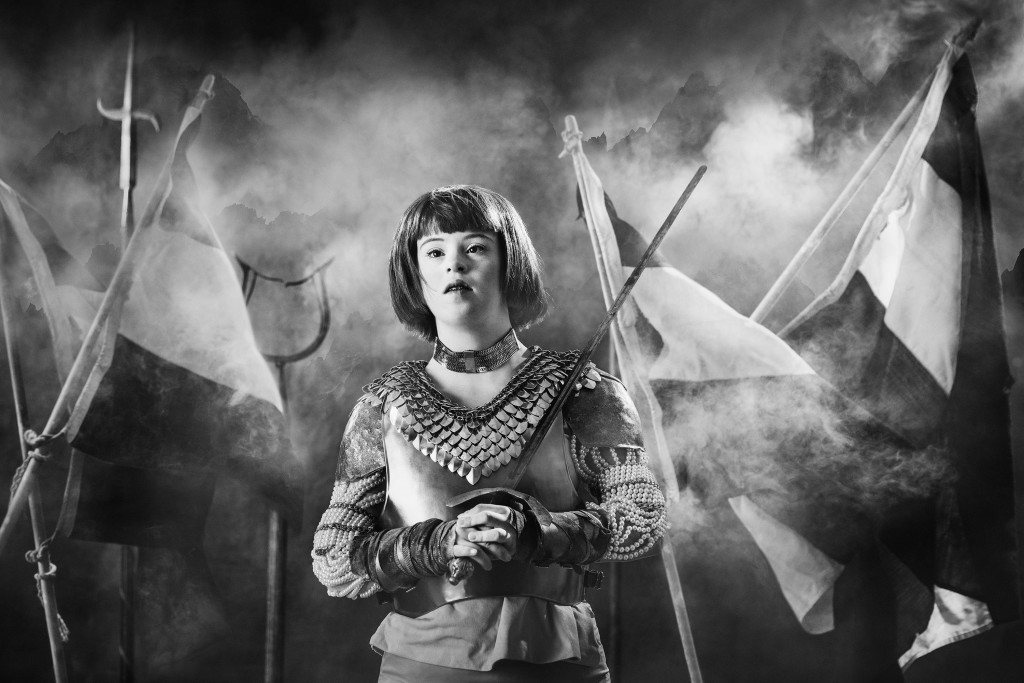 The Warrior
Moa, 17, Gothenburg
I get what I want! When we would go to the theatre, I told them, I said: Shit, I've got no lines. Then I got a line. I like wearing tank tops. They should be sexy. So that you'll fall in love. But I can't tell my mother these things. She comes into my room and asks: What are you doing, Moa? Then I sit and cuddle up with my pretend boyfriend who I made in my handicraft class. I love my mother most. I say: Mama, I love you so damn much!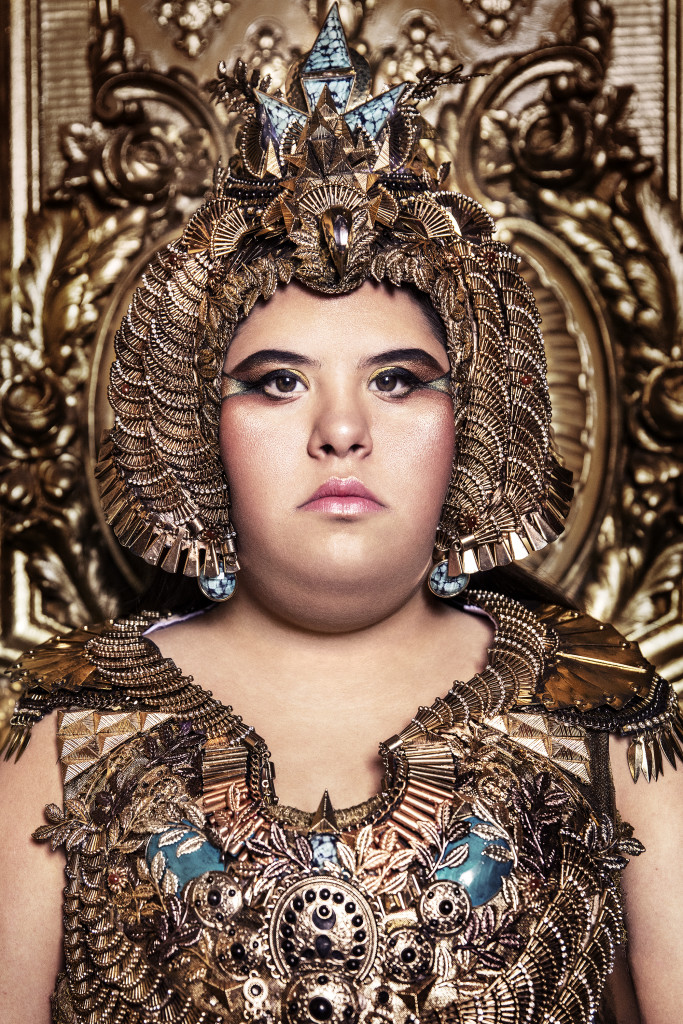 The Ruler
Victoria, 23, Tumba
I don't think that life is hard or tough… I get by. Everything with having Down syndrome is good, I think. I can say that I feel happy and I forgive others and I forgive myself. In my eyes, all people have good hearts.
I wanted to move away from home because I needed to get by on my own, and it feels pretty good… but I can't stand fighting… if someone is being stupid at work, I tell them to say sorry to each other, and they actually listen to me. In my heart, I want to know that things are peaceful and calm and everyone speaks in pleasant voices.
I'm good at talking and listening… and good at dancing and singing. I want to be on stage! I would like to talk to other people, but I can't work with the elderly because I know they're going to die and that makes me sad. I want so very much to work with kids.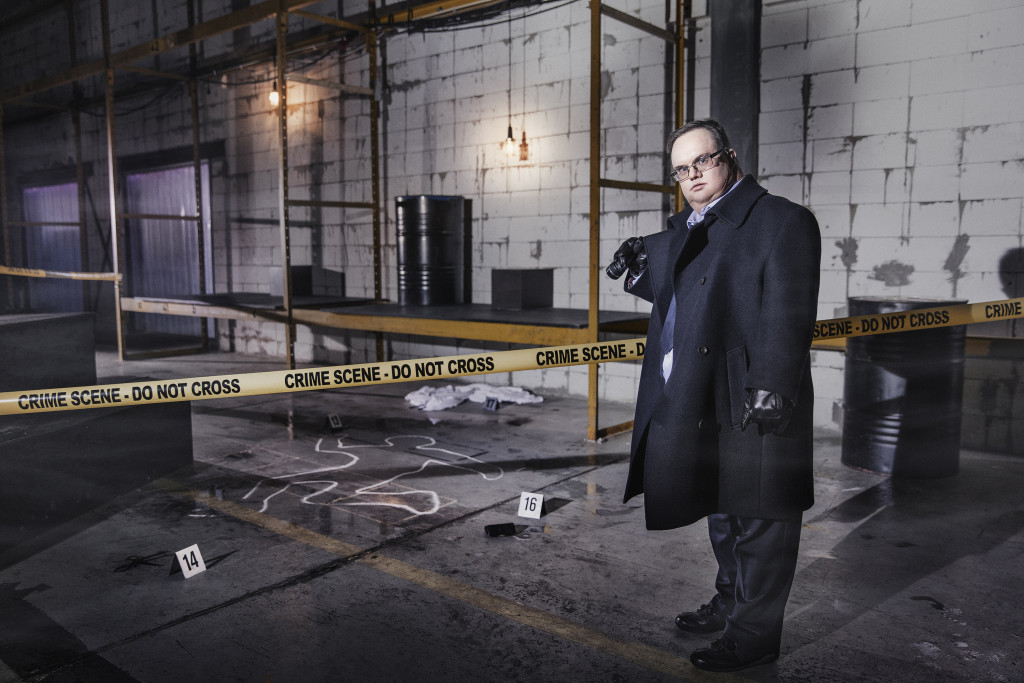 The Police Officer
Mats, 46, Hudiksvall
I was born and the nurse told my mother that I was a monster, and my mother got very scared… I don't know more of what they said, or, yes, I do – that I would be taken to an orphanage… but I didn't want that. Actually. I got a little brother then who grew very tall and was not small… haha.
I have 3 things: epilepsy, a developmental disorder, and Down syndrome. The worst is epilepsy. Down syndrome is okay. I feel appreciated as a person. I can do everything and I have a job as a caretaker. I am proud of myself, and I participate in theatre and am a celebrity. The whole country is on me. But they will not call me Jerry, they will learn to say Mats.
My dream is to be a real actor, I'm going to work to do that until I retire. It's actually very hard to learn the script.
Sometimes a few words go missing.
I want to be alone sometimes too. Take it easy. But when something goes wrong, I can lose it. When something went wrong with the coffee, I lost my temper and screamed and hit boxes and stuck a knife in the sofa! It was pretty scary.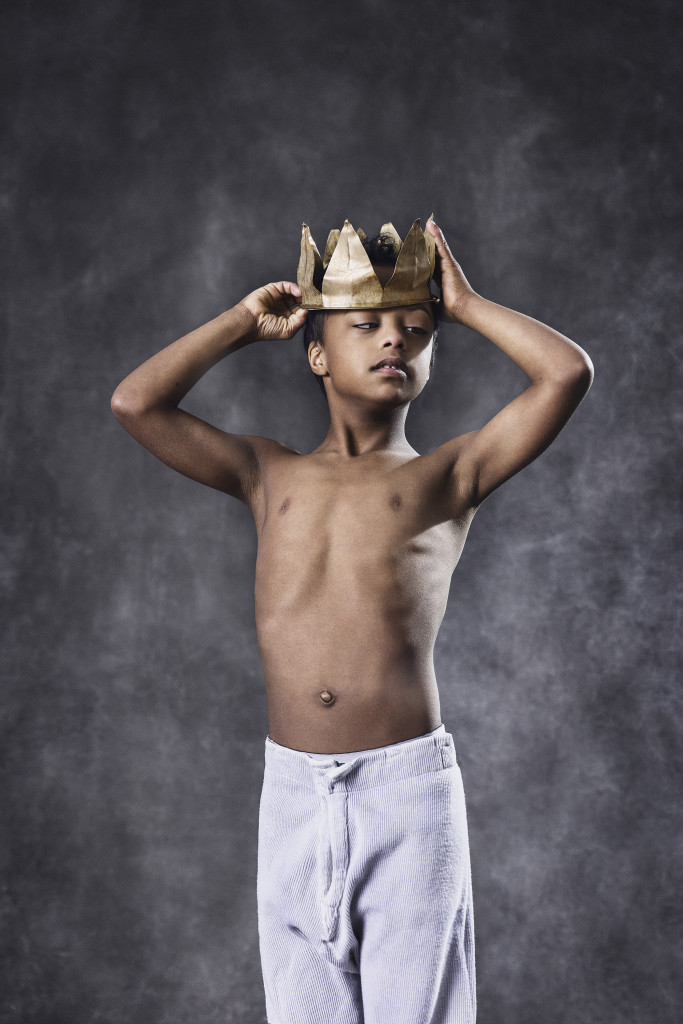 The Heir Apparent
Immanuel, 10, Borås
NO! I am not king. I am a prince. My name is Imme and I am a prince. My mother is my friend. My little sister is my friend. But now we stop. I count: ten-nine-eight-seven-six-five-four-three-two-one. No! I am not nice! No! I am not tired! I am happy, I said.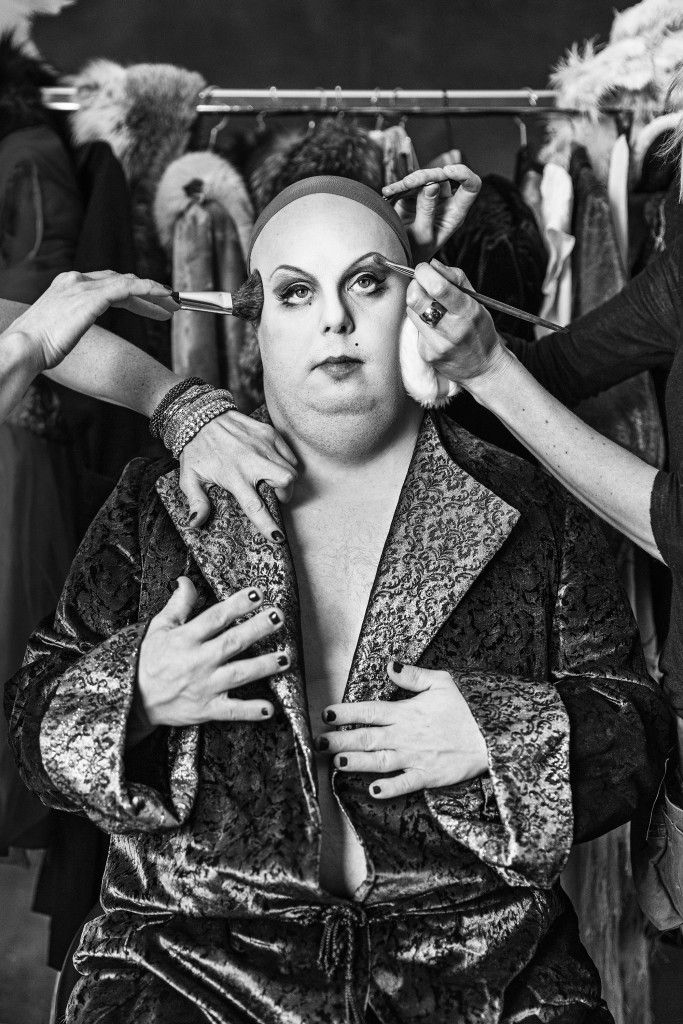 The Diva
Niklas, 38, Hudiksvall
My mother is dead, which I'm sad about. I got her things: a green sofa and pearls. At my place, the walls are purple and pink. The bedroom is yellow. I paint and paste up pictures on bags at the store, that's my job. There can be 100 pictures in a day! In the evenings, I drink coffee and watch TV. I dance at home for myself. I fall in love with guys, but no guy has kissed me. I'd like that.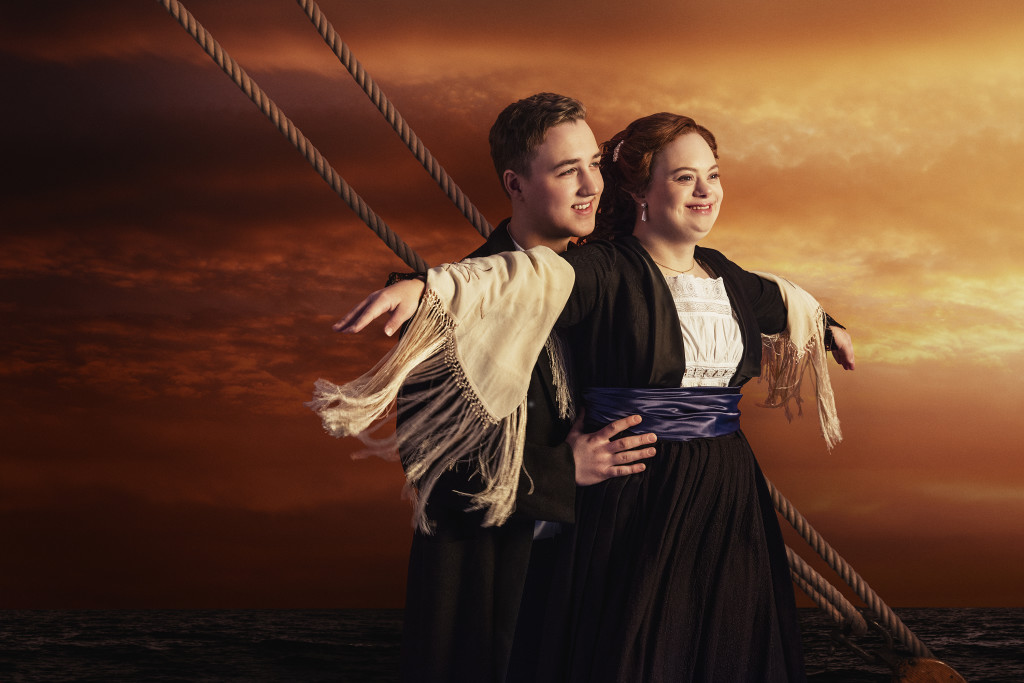 The Love Couple
Miranda, 25, Hamra, Värnamo
I've always known that I have Down syndrome, although I thought it was Dance syndrome, because I liked to dance, haha… After high school, I had so many thoughts. I wanted to know why. Why do I have this? Do other people think it's weird? Am I ugly? I was sad and didn't want to have Down syndrome. It was because I understood there was a difference. I don't want to have children because I can't raise them well. I don't want to get my driver's license because traffic goes too fast for me. But there are actually buses. My life is good. If I could choose, I'd rather take away my diabetes, that is tough.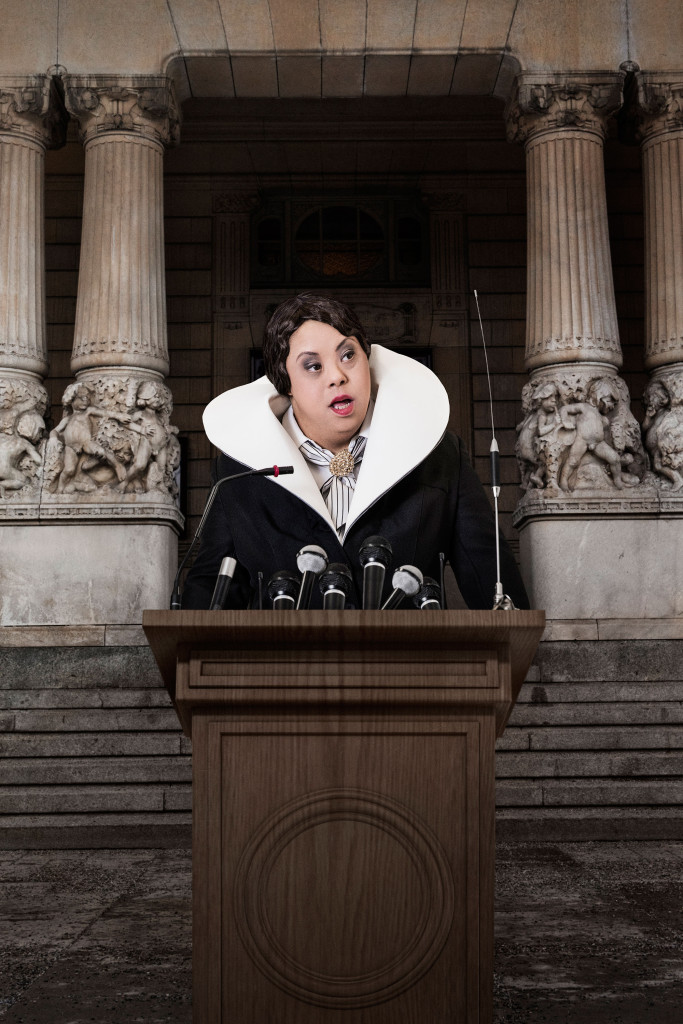 The Prime Minister
Rebecca, 36, Stockholm
I ran away almost every night when I was little and I was naked and my mother called the police. On Christmas Eve while everyone was sleeping, I went out in the forest… I was wild!
My mother keeps an eye on me. She took me to the theatre, even though I was very small… I loved the theatre… My mother is my great love and my friend. Love is important – I was in love with someone, but it didn't go well. He didn't want me. I sit home and think about love. I am very determined, not because I'm mean, but because I must be allowed to decide whom I love. It is my decision. Not my mother's, not anyone else's. Sometimes, I think that my mother is going to die. But she will not go into the fire and out to sea. No, thank you. The earth will change human beings. When someone dies, they go down into the earth. It's nice in graveyards… God and the mind. I want to sit at the graveyard and remember my mother there. But one day at a time.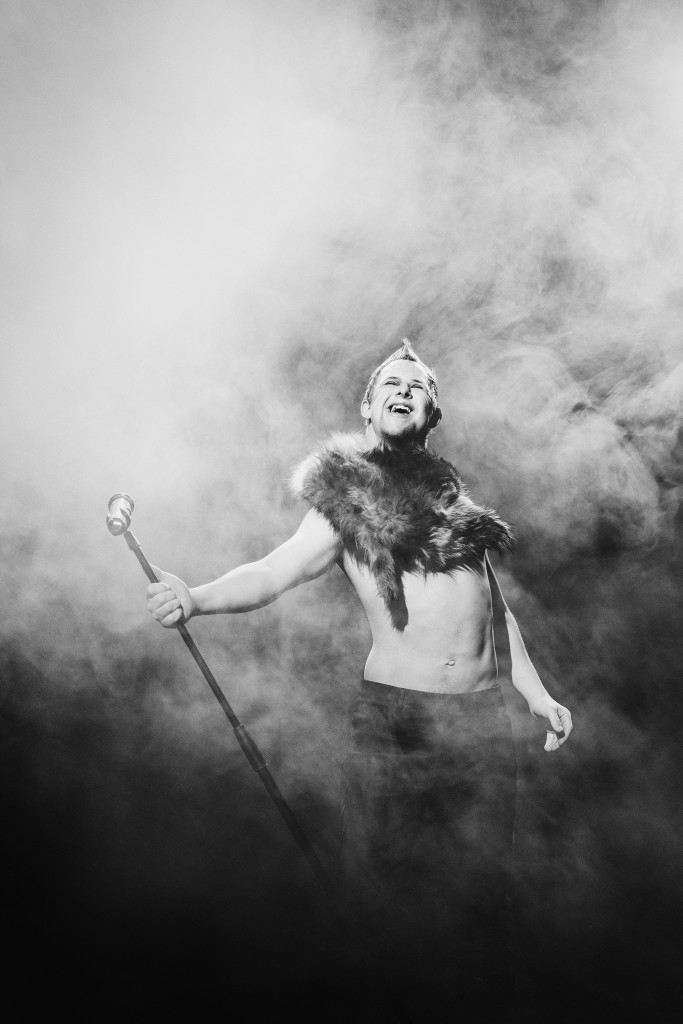 The Rock star
Alexander, 24, Alingsås
My telephone rings at quarter to 7 and I go to work. We have a meeting and discuss work and which screws we will have. We polish plates clean. We tear books. Then they are sorted. On Thursdays and Fridays, we have our outdoor group. We go out with dogs. We work with wood. It's fun. At 3pm, the taxi comes and we go home.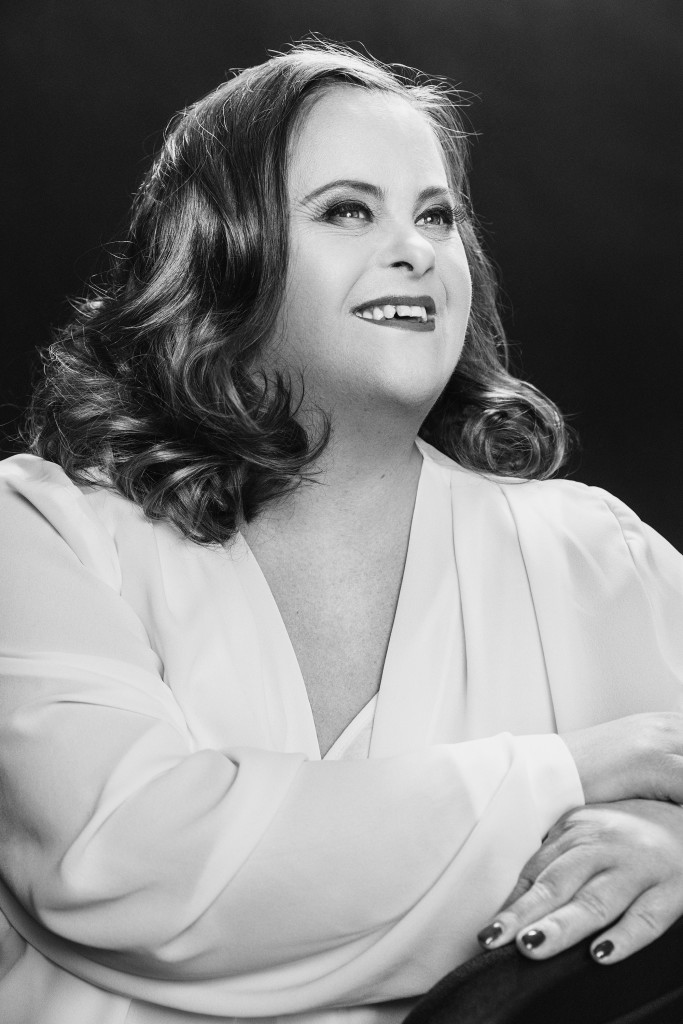 The Movie Star
Ingrid, 35, Varberg
In my heart, I'm proud of myself. I work as a cashier at a café. I really enjoy working out. I work out: in water aerobics, strength training, bowling, Nordic walking. I love dance band music and I dance really well. I'm very busy. But there are young people who fight and kick, who like to drink whiskey and that sort of thing. I don't like that.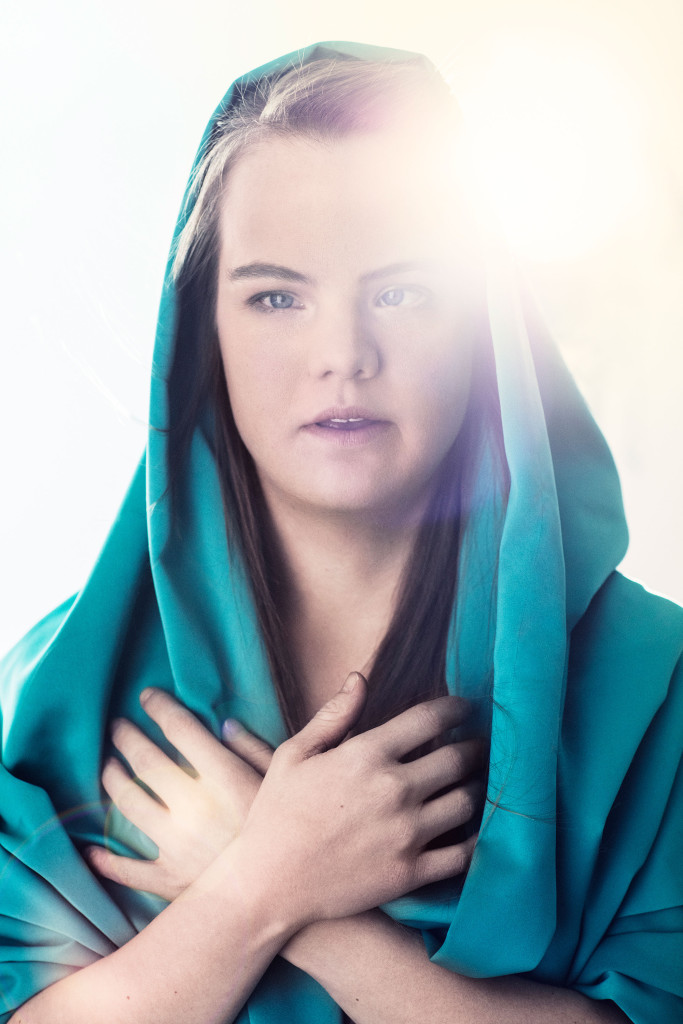 The Saint
Julia, 31, Varberg
Having Down syndrome is hard to explain. It's only familiar to me. Some people are tall and others are short and they don't reach as high. That's how it is. I feel that others think things about me, but I don't really know what they are. It feels strange when someone rolls their eyes. I've worked for 10 years as a breakfast hostess, it's fun. I earn a very low salary. I don't know why. I'm good at sign language and think that it could be a job.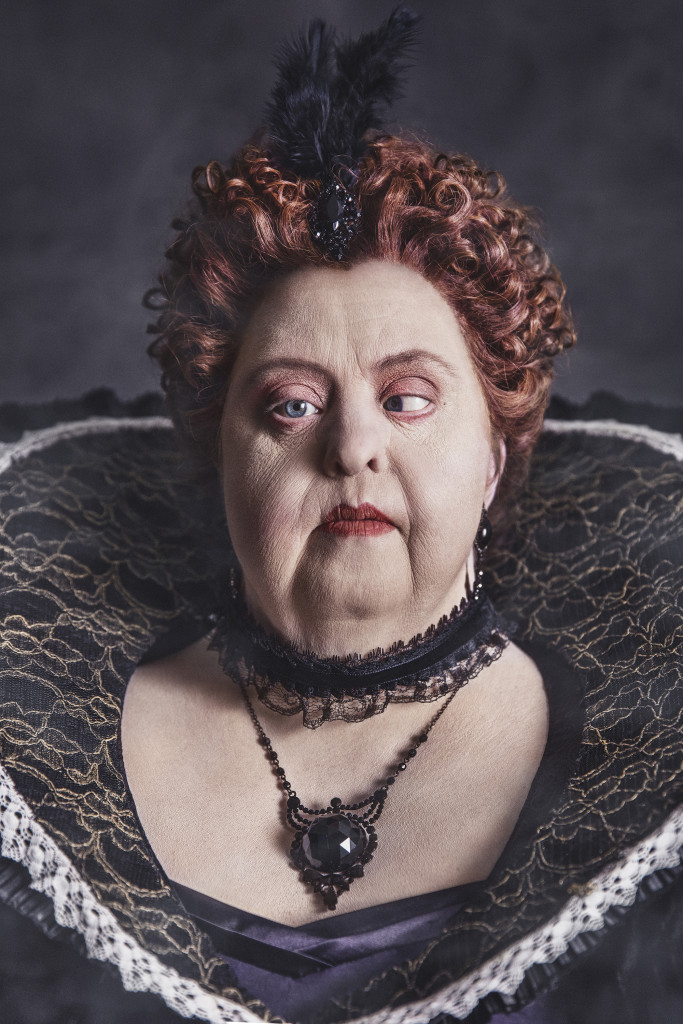 The Queen
Lotta, 45, Forsa
In school, I was called "mongo." It actually felt horrible. In some ways, it's better to say Down syndrome. Even if that isn't funny either. I've felt angry about it – and wounded. Quite simply, I just want to be like everyone else. I want to be loved and be liked. The only good thing about Down syndrome is that I don't have to sit in a wheelchair, I'm not like them. I can move around! I have great charisma, and a twinkle in my eye.
When my mother died, it got very hard. I lived with my mother.
It was a weekend, and I had packed a bag when my uncle called and told me. I cried, of course, and went to the parking lot and kissed my mother's car. I got my own apartment and it was empty and boring and not fun. Now it's good. I like to dance and play the accordion. It's not so hard when you know how to do it.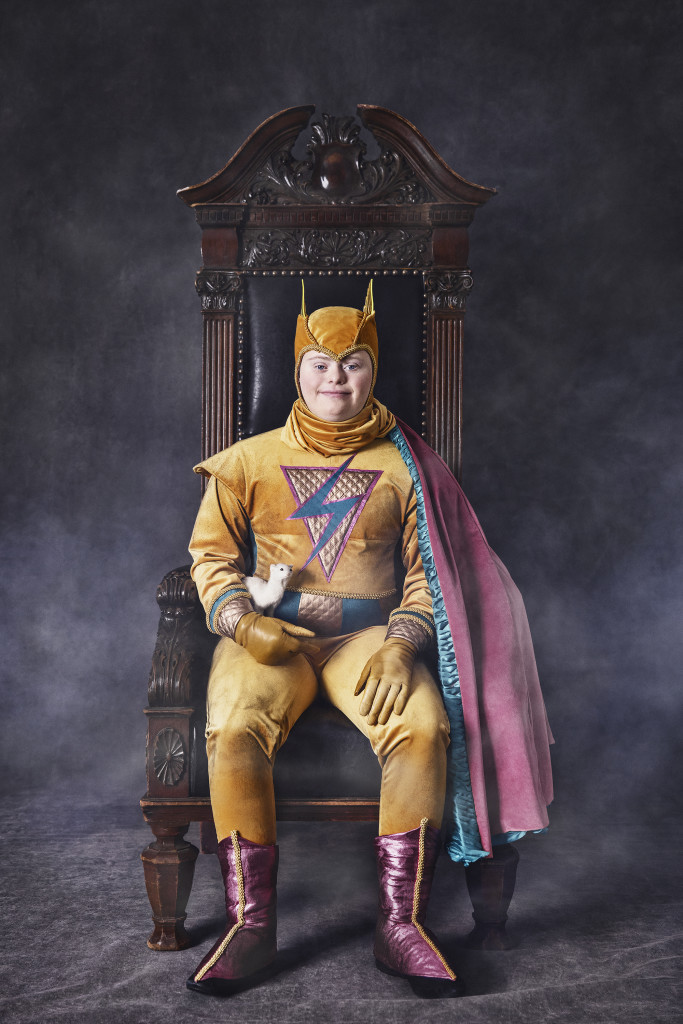 The Super Hero
Filip, 17, Östersund
I want to be tough. I want to do everything myself. My mother and father intervene in my private life. My new song is called "Tough and Stone Hard." I love being on stage! Magnus and I have the most hardcore band in town: Magnus Flipz. I wear a black blazer and a tie with notes on it. At home, I empty the dishwasher. I have a girlfriend named Amanda who is just as mischievous as I am. She has blue eyes and beautiful, flat cheeks.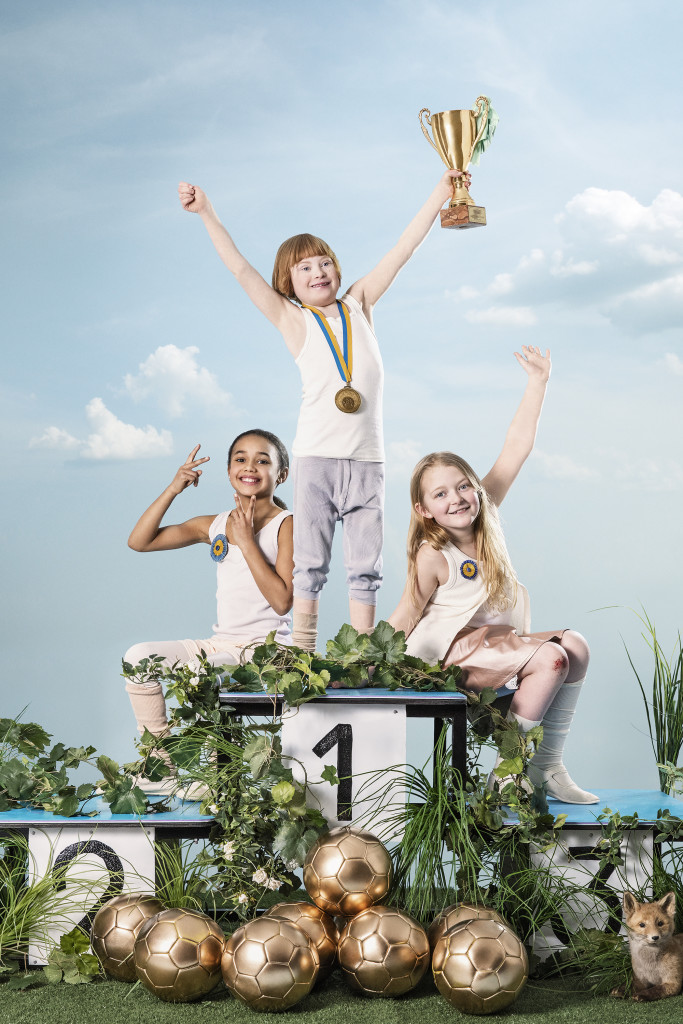 The Winner
Tuva-Lisa, 10, Sundsvall
I have a little sister and we are the same. Because we're girls. I like letters. Look, there on the wall is an A! My best friend is named K-L-A-R-A. We put on make-up and play doctor. The doctor has shoes and gives medicine. I sing to music: Pink. Madonna. Foo Fighters. I take the bus to school ALL BY MYSELF.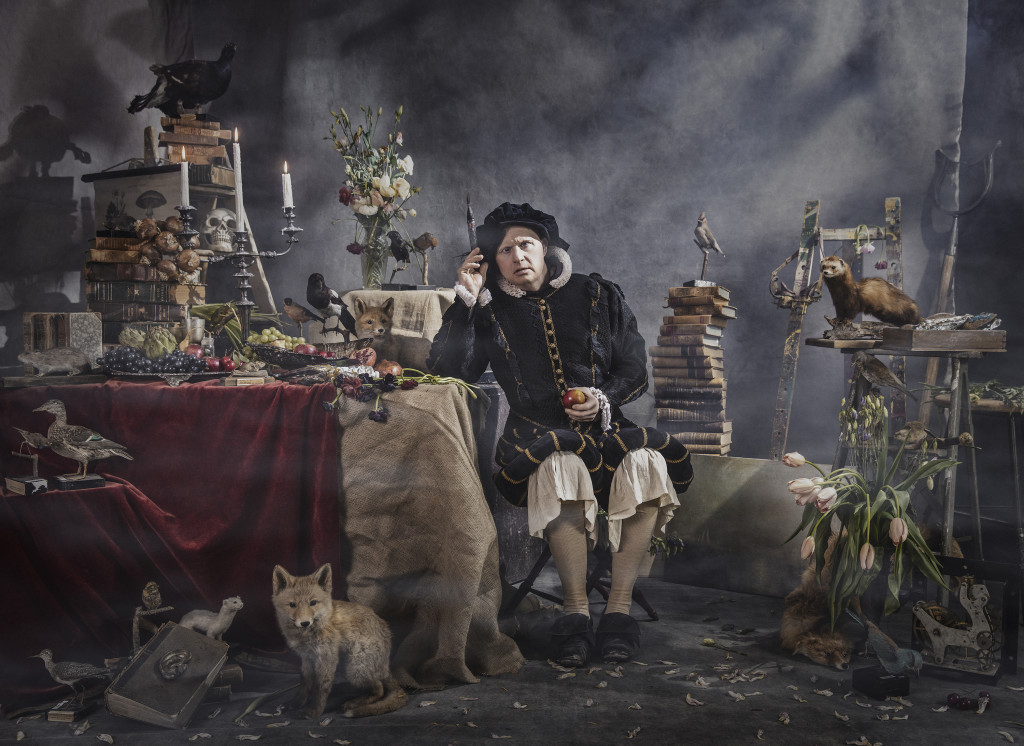 The Artist
Mikael, 49, Söderhamn
Every day, I write poems about love, it's my job. I have an office, I must be alone. I listen to dance band music as I write…
…love, it is warmth, community, respect. Different is the best word. I am different and I'm not sorry, I have my love music and my poems. I have a girlfriend named Ida who is beautiful like me. I'm doing well.
I write to children who have Down syndrome, they must also listen to the lyrics. So that time will stop.
Morning feel the strength/Experience the power/Can make tenderness in my/Eyes beauty/Freely sitting/Strong back/The sides time/The life loves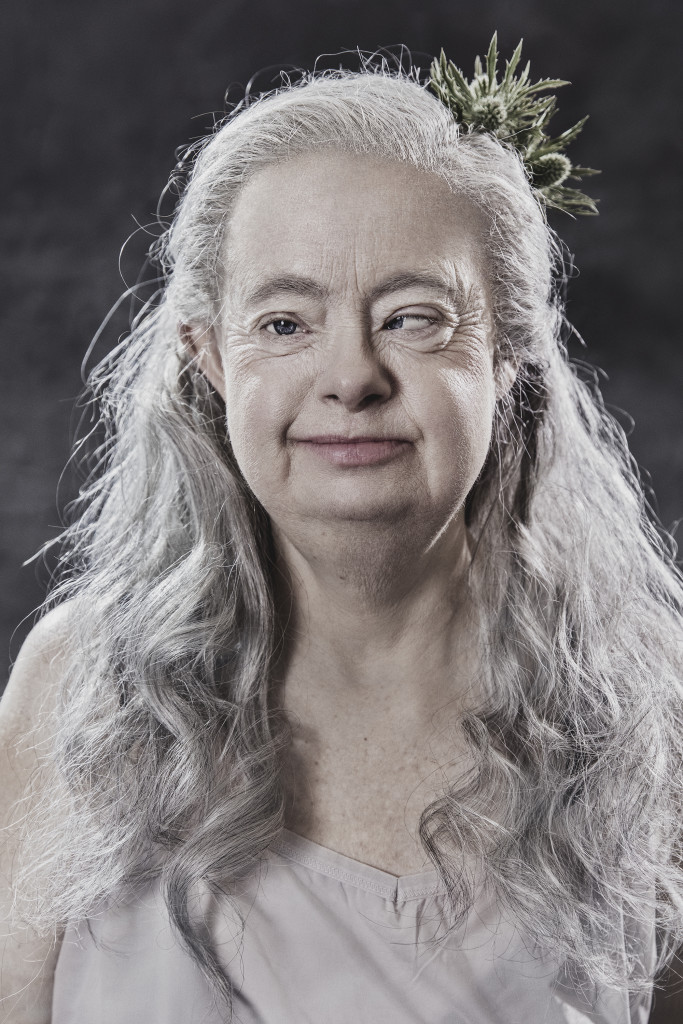 The Mother
Anna Kristina, 55, Mariehamn
I like hospitals because everyone is nice to me. I was so sick and completely silent, but then I sat up in bed and sang… I like the sea, the sound of the sea. I like to be out and walking and my mother and father don't need to worry, I come back. I like music, and Elvis… and Carola. I want to interview Carola. Write that down!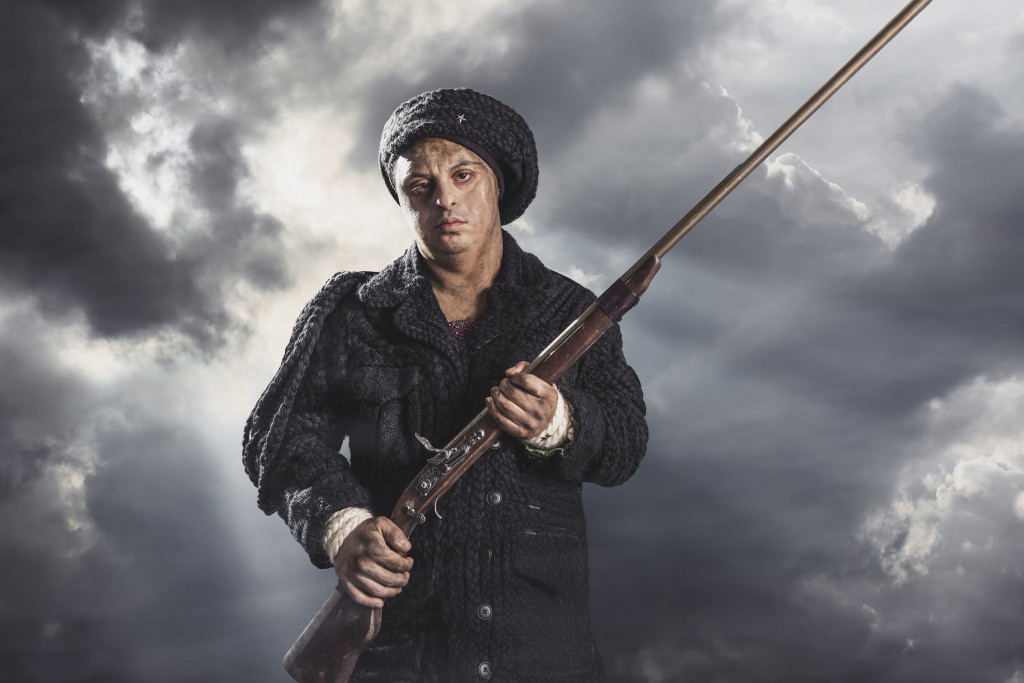 The Revolutionary
Shayan, 36, Stockholm
I'm never sad – maybe just a little if AIK loses. AIK is the best and the fastest. I love sports! I'm a goalie and I swim and play basketball and bowl. I have a training bike in my room. On Mondays, I dance. I would like to have a motorcycle and drive to work… On Sundays, I clean my room and organize my things. That's also fun.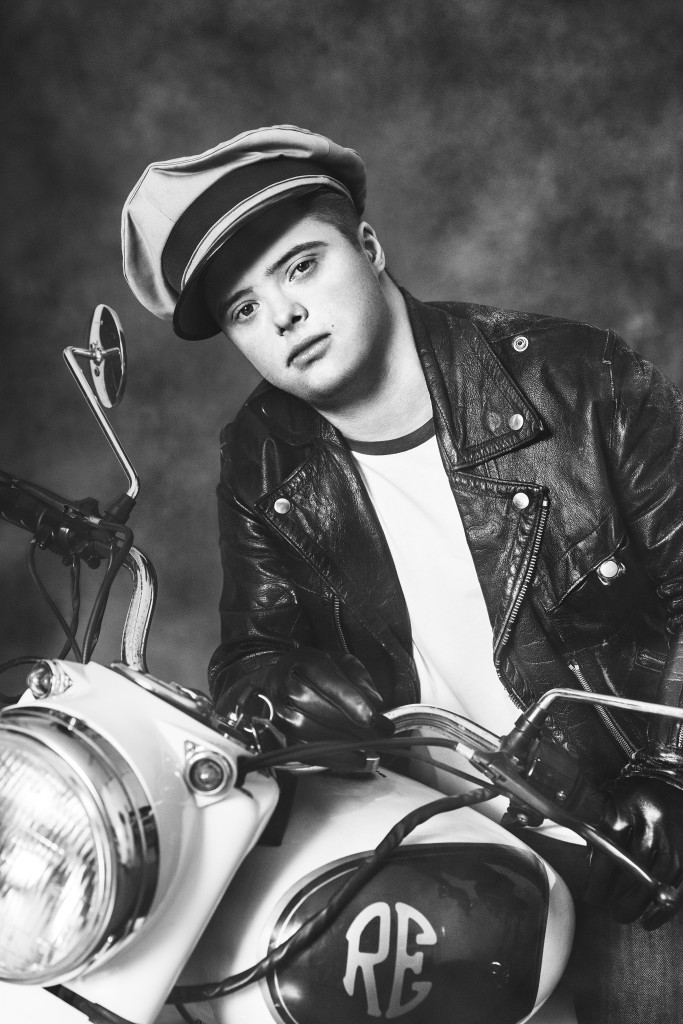 The Rebel
Jon, 20, Hestra
I can't wait for prom, I'm going to wear a black suit with a vest and a bow tie. Stina will wear a long turquoise dress. Ahhh! She hopes that everyone will say: "How cute you two are." Ahhhh! I can go to school and learn to wash and vacuum. I dream about working with dance and music, and I want to live with Stina and we will be on time and be home in the evenings and relax together. I might be able to get a job at Burger King.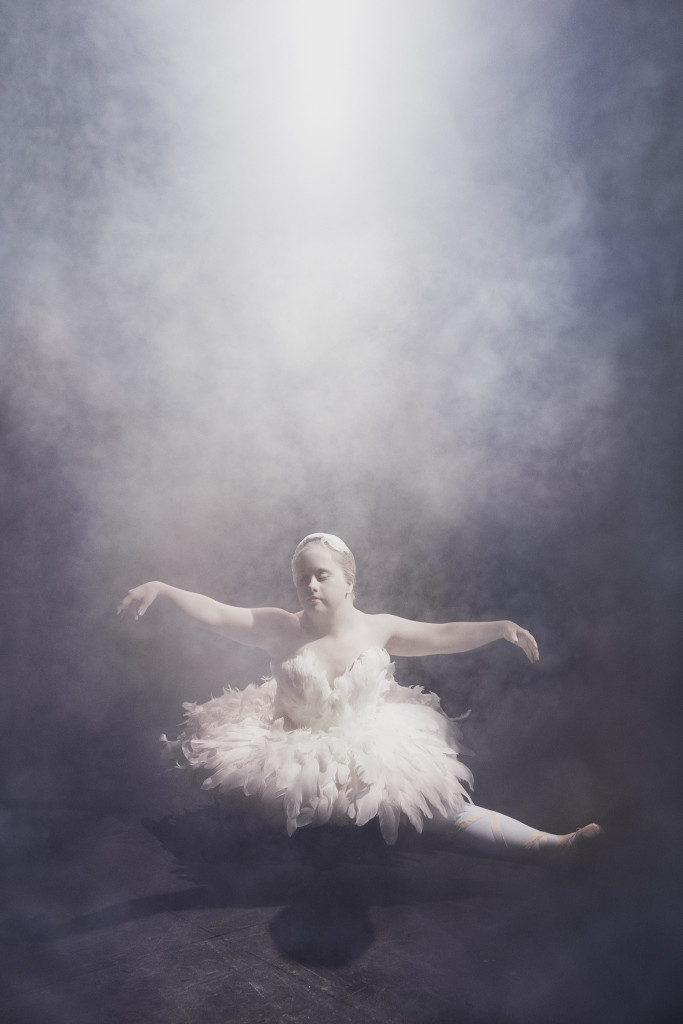 The Prima Ballerina
Ida, 25, Gothenburg
Look, I have a ring – not an ordinary ring, an engagement ring. His name is Glenn and he's the one. It's the best thing that's ever happened to me. We ate at a restaurant – ordered dessert too – and he paid, that's romantic. He got down on one knee and everyone saw. Noooo, I thought then, I should have bought a ring! But he had 2 rings! The thing that's so great about Glenn is that he doesn't need much. He's not tough, he's soft and has eyes like diamonds, not to say that he has everything.